Sleeper is a publishing studio working with photography, design, and text to realize artists' ideas in printed form. Our interests lie in cultivating a fluid practice that values open, collaborative, and equitable relationships with artists.

Sleeper is Ben Alper, Peter Hoffman and Ross Mantle. It operates out of Durham, NC and Pittsburgh, PA.

Contact
Instagram
Updates?
PROOF Photographs from the Collection of Robert E. Jackson
Introduction by Ben Alper
Fiction and Observations by Edith Fikes
Proof, 1st Ed.
$48 (US Shipping & tax included)
PROOF Collector's Edition12 different custom color covers
1 Original Proof Print from the Collection of Robert E. Jackson
$125
SOLD OUT

Blue-Gray short height beanie with an embroidered cloud
$25 (US Shipping & tax included)
Black t-shirt with a screen printed headstone
$30 (US Shipping & tax included)


PROOF

This book presents proof photographs from the collection of Robert E. Jackson alongside fictional responses by Edith Fikes. These rough, preliminary prints were used as utilitarian and notational tools to assist with image selection, cropping and retouching. Proof juxtaposes a diverse selection of these images with a series of highly personal and idiosyncratic narrative fragments, generating a sequence that re-contextualizes this vernacular imagery in surprising and ambiguous ways.
The images and texts collectively explore the negotiation of the photographic act itself, the performance of identity and vanity and the deep vulnerability that is often laid bare during the process. While being predominantly from the mid-20th century, these proof photographs are decidedly contemporary. They foreshadow our pop cultural obsession with retouching and identity construction, while also retrospectively pointing to a profound material shift in how we make, experience, and preserve photographic histories now.
Photographs from the collection of Robert E. Jackson
Introduction by Ben Alper
Fiction & Observations by Edith Fikes
116 pages, 48 plates, perfect bound
Screen printed covers by
Supergraphic
11 x 9 in. (27.94 x 22.86 cm.)
First Edition: 250 copies
ISBN: 978-1-64999-880-4
PROOF, 1st Ed.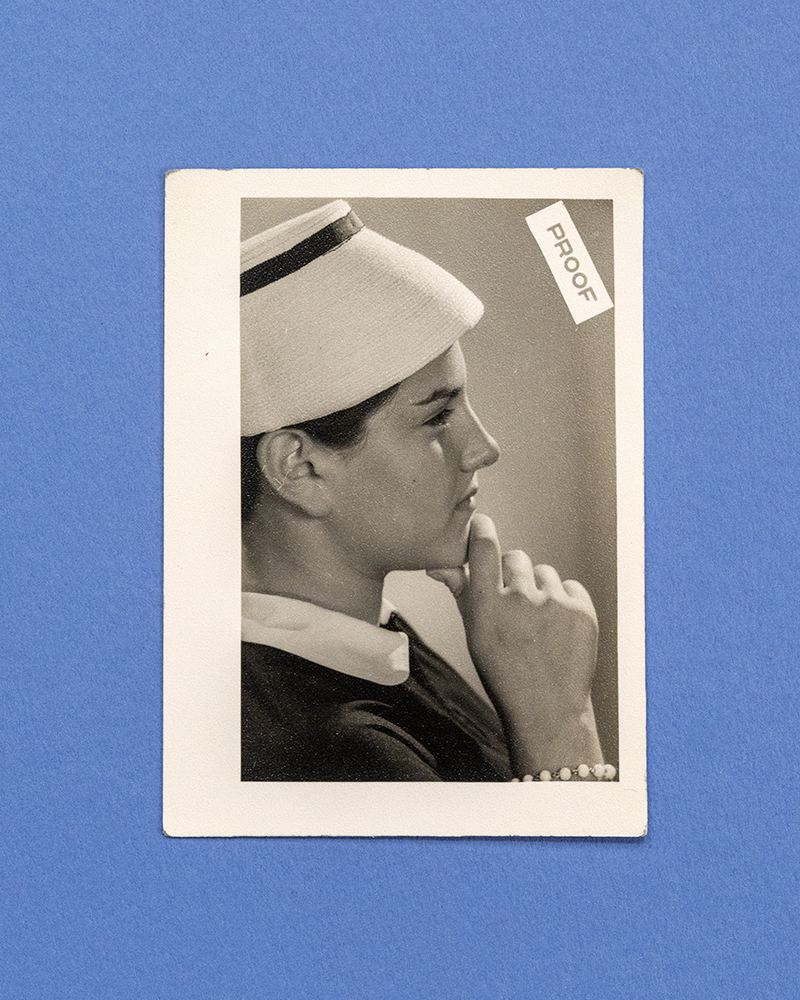 Collector's Edition of 12
Each special edition of
PROOF
is signed and numbered by Robert E. Jackson and has a different color cover screen printed on Mohawk Paper. In addition
,
each includes an original proof photograph from Jackson's collection. None of these photographs are included in the book.
SOLD OUT